Why Whole Foods? Why the number '4'? Why Healthy Living?
Whole Foods 4 Healthy Living is a Florida based enterprise that believes that Nutrition is the Key to Healing, Health & Longevity.
Whole Foods are complete with all the nutritional goodness that we as humans need to thrive, not just survive. The number '4' is for the four things we avoid: Meat, Fish, Dairy and Eggs. We offer a Healthy Living lifestyle program supported by delicious Plant-Based Cuisine that allows you to enjoy tasty, inexpensive, as well as nutritious/healthy, meals that will promote health, wellness and longevity.
Who We Are
We are Chef Nancy and Skip Stein and form the foundation of Whole Foods 4 Healthy Living. Our company serves to promote a Plant Based Lifestyle with Plant Based Whole Food Cuisine. We offer counseling, training and seminars, not only in Central Florida, but just about anywhere. We make frequent Road Trips to promote a Plant Based Lifestyle and offer to lecture, present and counseling to individuals and organizations along the way.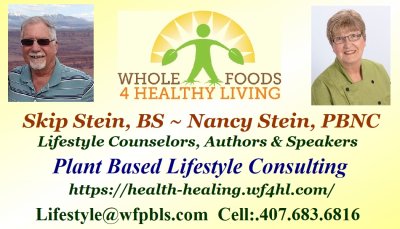 Click on the one you like and purchase from Amazon!
Marketing Cookbooks for Crown Jewel Organic Farms
Chef Nancy uses 360 Cookware!